Engineering Design
Custom 3-D model of a 15 station die
assembly for the electrical industry
WT&D Engineering Design team's expertise and computer aided design capabilities support our customers from part design and prototype to completed manufactured product.
Each product and tooling design results in custom design documents that are maintained and available to the customer.

Utilizing the latest in CAD/ CAM software, including SolidWorks® 2012, ESPRIT® 2011, and CAMWorks® 2011, fast and accurate strip and die designs are created with ease.

From specifying tool steel types to utilizing GD&T, our Engineering Design teams will combine new technology and tried and true principles to exceed your expectations.


Custom 9 station strip for the industrial industry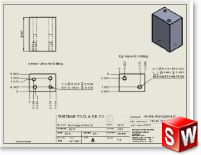 Utilizing SolidWorks® 2012 allows us to create
our world renowned quality tooling faster

Engineering Services:
Ability to import and export data in 2D, Wire Frame and Solids
Product Development and Design

R & D and Prototypes
Value Analysis


In House Tool Design

Prototype Design
Blanking Dies
Compound Dies
Deep Draw Dies
Progressive Dies
Gages


Project Management